Dental Office Text Messaging
Is your dental practice losing out on revenue due to missed appointments? Recent surveys suggest that 64% of consumers think businesses should contact them via text messages more often Using our dental marketing platform can help you bridge that gap and substantially reduce no-shows.
Why You Need SMS Text Messaging For Your Dentist Practice
One of the most frustrating issues dental offices face is when patients don't show up for their scheduled dental appointments. According to recent studies surveying the various medical specialties and their respective no-show rates, dentistry suffers from some of the highest no-show rates at a whopping 10-15% for the national average of all dentistry practices. That means 1 out of every 6 or 7 scheduled appointments turns out to be no shows! If you're fully booked out every day, which most dentists are, You can expect to lose 3 appointments every day based on the national average no-show rate. This means the average dental practice is leaving $600 on the table every single business day.
Our dental text messaging platform helps solve this problem with effective and easy-to-implement appointment reminder texts. With our text messaging software there is no reason for your practice to continue to lose all this business every day, we offer a convenient way to send dental appointment reminders to your patients through SMS text messaging to help take your practice to the next level.
How SMS Can Help Grow Your Dental Practice
Dental Appointment Reminders
With the average dental appointment generating $200+ per visit, you simply can't afford to have too many no-shows. A few no-shows every day may not seem like much but over the course of the year it can add up 100's of thousands of dollars in lost revenue!
The best dental offices are using appointment confirmation texts as well as appointment reminder texts to ensure no-show rates are kept to the bare minimum. These types of texts help weed out potential cancellations earlier allowing you to not only reschedule for another day but also gives you time to book that newly opened appointment slot.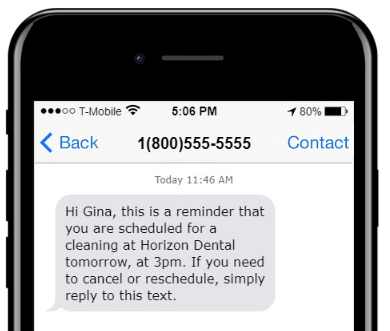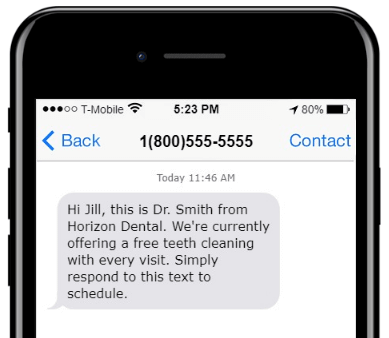 Sending Promotions and Deals
Generate additional revenue by offering special deals and promotions to bring in extra appointments or make upcoming appointments more profitable. An example would be offering a back-to-school promotion for your patient's children to get discounted teeth cleaning or checkup.
Alternatively, you can offer a discounted cleaning to all your patients already booked in for an appointment. This can raise your average revenue per appointment which will definitely add up to a solid boost in revenue by the end of the year.
Review Requests
These days, finding a local service (such as a dentist) starts on Google. A big part of bringing more customers in and having all of your appointment slots booked is maintaining a good reputation where potential new patients can find your dental office.
To that end, nothing is as effective at generating new positive reviews for your business as texting your review link to your satisfied customers following a successful visit. By following up on your patient's experience and giving them a convenient way to leave you feedback, you are guaranteed to get an enormous number of positive reviews to help maintain your online reputation.
How To Use Texting for Your Dental Practice
Our platform makes dental text marketing as simple as texting your friend.
Sign up for a text messaging service
You can quickly get signed up with our texting platform in just 5 minutes. All you have to do is pick your plan, provide a few details about your company and you're all set to start sending your first text message marketing campaign.
2. Upload your patient's contact details
We provide a convenient custom contact form template designed for use on your website to collect your user's information and opt them into your text message updates as well. If you already have a tonne of patient contact details you can bulk upload them into our platform using our CSV bulk upload template. It is important to note that there is a difference between informational text messages and promotional ones. To send out appointment reminders, you simply need to have a patient's phone number and appointment date. However, to send out promotional material via SMS, you would need their express written consent to receive text messages from you.
3. Craft Your Text Message Campaigns
Setup campaigns that are specific to the category of subscriber you want to send a message to. For example, you can segment your subscribers into lists based on group membership such as students, promo customers, scheduled appointments, etc. Need to promote your latest back-to-school special? No problem you can send out a quick text to your patients with just a few clicks. Once you know the group of subscribers you need to communicate with, it's time to craft your text message campaign. Our platform allows you to plan your campaign weeks in advance with automated follow-up text messages that go out at scheduled dates and times that you have complete control over.
4. Setup Your Campaign Keyword
To help segment your subscribers you should create a campaign keyword that allows future subscribers interested in a particular promotion at your dental practice to signup to your list using that keyword to place them in the correct list.
For example, you could place your opt-in keyword and dedicated text line on your marketing materials to encourage your customers to text 'CLEAN' to your number and be opted into the discounted cleaning you're offering.
You can then follow up with all opt-ins to schedule their appointment for a cleaning.
5. Promote Your Keyword
Make sure to promote the keywords you just set up everywhere that your dental practice markets and promotes itself. You should be plastering the keyword and your dedicated texting number on every piece of direct mail, flyers, bulletin board, social media profiles, and voicemails to make sure your subscriber list continues to grow and more importantly so your practice can continue growing its revenues!
6. Start Texting!
The Future of Marketing is in
SMS and Direct Contact
Don't get lost in cluttered email inboxes. Reach your prospects where they're most likely to engage with your marketing material: SMS.