Restaurant Texting Service
Learn how our Restaurant Texting System can help take your restaurant to the next level. Whether it's to manage curbside pickups, confirm reservations, or to drive more online orders, you can rely on our text messaging software to have your back!
Restaurant Texting – Why It's the Next Big Thing
Restaurant text messaging systems have recently been helping restaurant owners reach out to their customers more effectively for the last few years. Many restaurants rely on their phones for better customer service, including helping them make reservations, find local dining options, and send out specials and deals. Our text messaging platform allows restaurants to use mobile phones as not only a marketing tool, but as a more efficient way to serve customers
With the introduction of restaurant text messaging software, restaurants can provide better access to important information for reservations and special orders. Restaurants can provide coupons, book reservations, and send out text reminders to remind customers of upcoming events and parties. They can even include photos of their newest dishes and options in order to keep their customers coming back again and again!
The best part is, restaurant text messaging has the added perk of being cost effective. Because of the low cost of text message marketing, many restaurants are adjusting their marketing budgets away from traditional & expensive forms of advertising like flyers, banners, billboards and television commercials. Mobile text messaging is a great option for cost-conscious restaurant owners and is becoming more popular because it is easy to set up, relatively inexpensive to purchase and efficient to use.
Did you know 83% of millennials open SMS messages within 90 seconds of receiving them?
Restaurant text messaging offers great benefits for restaurant owners because of how fast & effective this form of marketing is. Overall, text messages enjoy an open rate of well over 98%, so even if millennials aren't your target audience you can be sure that your messages will be received and opened. More importantly, branded text messaging has a 45% response rate! This means almost half of your customers will respond to your messages if your message includes your brand or company name.
Why You Need a Restaurant Texting System
Cell Phones Are Ubiquitous
Most people these days have mobile phones which is why marketing through text messaging is an excellent idea. Whether your customers have the latest model or the oldest flip phone, you can be sure that they will receive your text messages. Your customers don't have to learn how to use a new fancy app they just need a phone that can send and receive sms text messages, which every phone is capable of now.
Make Texting Work For You
In order for this marketing strategy to work, restaurant owners need to first understand that text message marketing is just a way for a business and their customers to communicate directly with each other. It works by sending SMS text messages to anyone with a text-enabled phone. These texts can either be done through your phone's text service or a computer-based text messaging software solution.
When customers receive a text from a restaurant, they can opt to respond or not. The restaurant text will typically contain the restaurant's name along with a short line describing what the customer will find inside the message. 
For example, if you're restaurant is offering dinner for two at a price of $75, a text message will include the dinner menu as well as the offer or deal that the restaurant is promoting. The customer can then respond to the text or delete it if they are not interested in what is being offered.
Why Us?
Traditionally, you would have to use a cell phone to manually type up the text message offer and send it to everyone on your list of customers one by one. Sound tedious right?
That's where our texting platform comes in, we simplify this process and make it easy and painless to compose and send text message marketing campaigns to 10,000's of your customer at the click of a button. Also by centralizing all your text messages on our platform you can manage your conversations with customers much more efficiently, ensuring every customer gets the attention they deserve from your restaurant
How to Use Texting for Your Restaurant
Now that you know why to use texting for your church, here is a step by step guide on how to use it.
Sign up for a text messaging service
You can quickly get signed up with our texting platform in just 5 minutes. All you have to do is pick your plan, provide a few details about your company and you're all set to start sending your first text message marketing campaign.
2. Collect your customer's information
Make sure to set upto include your the dedicated text messaging number and your keyword to all your marketing materials such as flyers, billboards, coupons etc. We also provide a convenient custom contact form template designed for use on your restaurant's website to collect your user's information and opt them into your text message updates as well.
3. Craft Your Text Message Campaigns
Setup campaigns that are specific to the category of subscriber you want to send a message to. For example, you can segment your subscribers into lists based on group membership such as students, promo customers, etc. Need to reach students to promote your latest student special? No problem you can send out a quick text to the students that opted in to your texts with just a few clicks.
Once you know what group of subscribers you need to communicate with, it's time to craft your text message campaign. Our platform allows you to plan your campaign weeks in advance with automated follow up text messages that go out at a scheduled date and time that you decide.
4. Setup Your Campaign Keyword
To help segment your subscribers you should create a campaign keyword that allows future subscribers interested in a particular promotion or event at your restaurant to signup to your list using that keyword to place them in the correct list.
For example, you could encourage your customers interested in live entertainment to text 'ENTERTAIN' to your dedicated texting number to get signed up to text reminders of upcoming live music gigs or events at your bar or restaurant. 
This way you won't annoy all of your subscribers with irrelevant messages and make sure everyone is up to date with the information they are specifically interested in.
5. Promote Your Keyword
Make sure to promote the keywords you just set up everywhere that your reaturant markets and promotes itself. You should be plastering the keyword and your dedicated texting number on every piece of direct mail, flyers, bulletin board, social media profiles, and voicemails to make sure your subscriber list continues to grow and more importantly so your restaurant can continue growing it's sales!
6. Start Texting!
Restaurant SMS Template Examples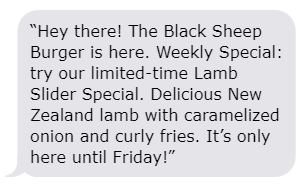 Restaurant Weekly Special SMS
Create a welcoming environment with personalized texts when people sign up.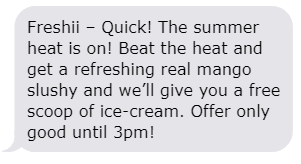 Restaurant Promotion Example
Let all of your subscribers know about promotions.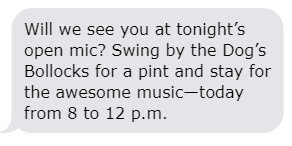 Have a cool event coming up? Let everyone know using Texting.io
Restaurant Weekly Special SMS
There's no better way to announce your weekly specials.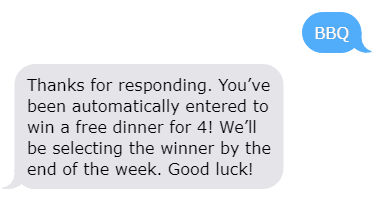 Create custom keywords and run sweepstakes through the app!
Keep your customer base engaged by running surveys.
The Future of Marketing is in
SMS and Direct Contact
Don't get lost in cluttered email inboxes. Reach your prospects where they're most likely to engage with your marketing material: SMS.