Real Estate Text
Message Marketing
In an industry where time is everything, engage with your leads immediately through the channel they are most likely to read: Text Messaging. Whether you are a broker, realtor or investor, you can use SMS/MMS blasts to increase revenue. 
Here Are Some Ways Real Estate Professionals Use SMS Marketing for Real Estate
Being proactive can be the difference between getting a sale or not. Waiting around for the buyer to read your email can mean the difference between getting a sale and not. You also don't want to appear too pushy to prospective clients by calling all the time. That's where text message marketing comes in. Reach your prospects when they're most engaged: SMS messages have an open rate of 98%!
Show New Listings to Subscribers
Emails are notoriously easy to miss in the bulk of junk people receive on a daily basis.
In contrast, 82% of SMS messages are read within five minutes of being received. Don't get lost in the email clutter, with low click-through and even lower response rates.
Text messages are the future for marketing for everyone from small businesses to Fortune 500 companies.
Set Viewing Times and Correspond With Your Clients
Use our convenient two way texting and inbox feature to keep conversations going with your customers. After you send out your promotional material, you can answer questions and engage with clients directly from your inbox.
Use our upcoming Zapier integration to integrate with any other CRM/app with minimal work.
And the best part is, incoming texts are completely free!
Check out how Max Sells Vegas used Texting.io to increase their engagement and get more sales every month.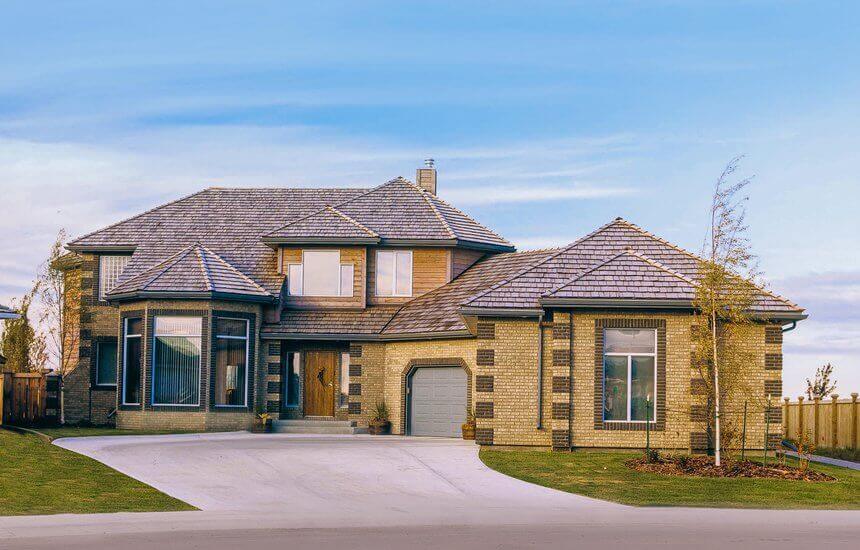 Create Keywords for Your Listings
As a realtor, you can leverage the power of our platform to showcase your properties. Simply create a keyword, set up an autoresponder and put that keyword in your promotional materials (billboards, signs etc.) When customers text that keyword to your number, they receive more information about their chosen property. Simple!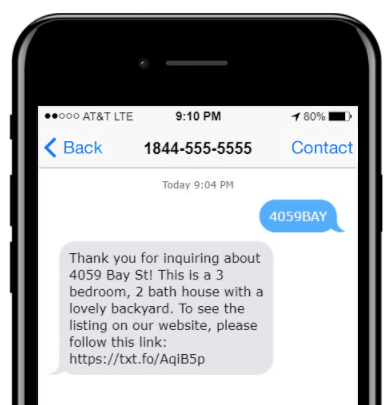 How Can SMS Marketing Help You Sell More Real Estate?
Texting is really cool and can make your life easier, but how does it actually help you sell more and make more money?
Contact New Leads Immediately
Whether you're taking advantage of Facebook advertising, Google Ads, or any other advertising platform to generate your real estate leads, our software allows you to upload your lead list directly into an SMS text message campaign. From there you can contact them all in minutes regarding that new property they're interested in or the house they're trying to sell.
Personalized Real Estate SMS Promotions
Craft personalized real estate offers using mass text messaging to reach 100's of clients and custom merge fields to add a little personalization to your message to give your customer that personal touch. Whether they are buyers or sellers, our text messaging platform ensures that you can always reach your clients with any offers or announcements you might have for them.
Scheduled Text Messages
Create scheduled SMS marketing campaigns with multiple automated follow-ups for weeks in advance if you like. Our platform allows you to streamline your client communications by taking the hassle out of it. You can now plan out your text messages in advance and contact 1000's of customers at a time allowing you to eliminate the grind of customer relations and focusing on what you do best.
Cut Costs and Save Time
With automated text messaging you can finally stop wasting time on mundane repetitive communication tasks and really focus on growing your real estate business. You'll also be saving money by growing your customer subscriber list you'll always have access to cost-effective marketing campaigns that generate sales compared to the leading advertising alternatives that require large budgets and finally tuned sales funnels to generate sales.
MMS Message Attachments
MMS stands for "Multimedia Messaging Service" and it allows you to send text messages with picture, videos, or audio message attachments to your customers and new leads. Our platform allows you to create MMS Message campaigns that take advantage of this technology to send all required documentation for buying or selling a home.
The Future of Marketing is in
SMS and Direct Contact
Don't get lost in cluttered email inboxes. Reach your prospects where they're most likely to engage with your marketing material: SMS.