With the popularity of text marketing increasing, spam text messages inevitably increase alongside it. With that, it becomes important to distinguish between regular texts sent out by legitimate businesses and spam texts sent out by bad actors.
First off, there are 2 types of legitimate texts that a business might decide to send out: informational texts and promotional texts.
Texts classified as "informational" are:
Meeting/appointment reminders
Travel booking information and any changes (ie. flight cancellations)
Vehicle status updates
Example of an informational SMS
Generally, any text message that doesn't have any marketing or promotional content and can be considered providing important information for the recipient is considered an "information text."
Informational texts are not subject to the same requirements to receive express written consent as market SMS.
Marketing texts are any SMS/MMS messages that:
Provide a coupon
Inform of products or services for sale
Provide information on promotions that a business might be offering
Example of a promotional SMS
Any text message with marketing content (even if it's packaged up with informational content) should be considered a "promotional SMS" and express written consent by the recipient is required.
A spam text message doesn't fall into any of these 2 categories. Spam texts are sent for the express purpose of scamming, defrauding or somehow misleading the recipient.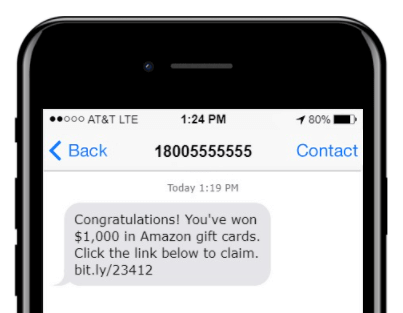 Example of a spam text
This is a common example of a spam text message, where the sender wants the recipient to believe they've won some sort of contest and get them to click a link in the text. This link then leads to a website designed to steal your personal information.
This is a very common tactic among spammers. Their goal is to get you to click on the link, and they'll use many different types of spam texts to get you to do so.
Another example of a spam SMS
The FedEx, USPS, Amazon, Walmart etc. tracking code scam is also a very popular tactic with spam texts. Chances are, if you have a mobile device that is text enabled, you will have seen a variation of this.
As people become more and more aware of spam, so do the spammers get more and more sophisticated in their efforts. If you've had some of your personal detailed leaked in the past, they might use that knowledge to better target you with spam.
For example, should a scammer know that you have a Bank of America chequing account, they might send you an SMS like this:
Bank spam text example
For a lot of people, getting a text message like this can be a very scary experience. You might worry about your account being hacked, being behind on rent, or any number of other problems that you now have to deal with.
This is exactly what the spammer is hoping for. The best thing to do if you get a text that seems like it's from your financial institution is to log into your online banking the same way you normally would. Do NOT click the link in the text and log in that way.
It's worth noting that legitimate businesses can use a mass texting service to message their subscribers with offers, content and other important information. If you're a consumer that has received a suspicious text message, you should ask yourself if you remember opting it, and if you don't, does the message look suspicious?
In the above article, we've outlined some legitimate reasons that businesses would have to send you an SMS, as well as numerous common spam text message examples that millions of consumers are receiving on a daily basis. If you do get something you assume is a scam, do not click any links and report it to the FTC. If you need more help reporting what you suspect is spam text, check out our blog post on how to report a spam text.
Table of Contents Introduction to SMS MarketingWhy SMS Marketing is EffectiveCreating an SMS Marketing StrategyBest Practices for SMS MarketingCompliance and RegulationsMeasuring SMS Marketing SuccessConclusion Introduction to SMS Marketing SMS marketing is the...